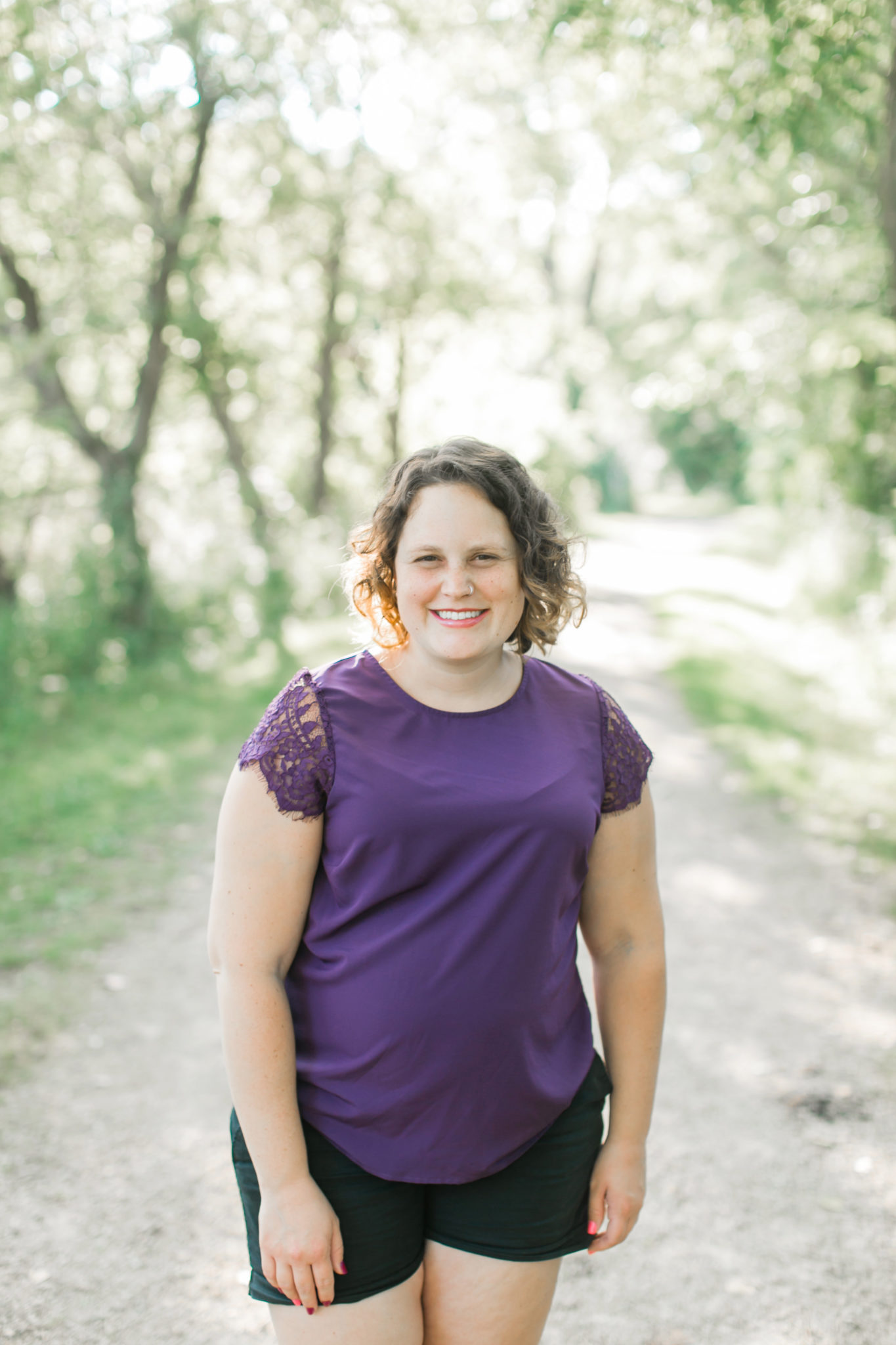 Hi, guys. I realized that I hadn't done a basically "My story" episode of the "Created for This" show, and so here we are. For those of you who are new to me, my name Is Danielle Roberts and I am a business manager, and strategist, author, of the book "Created for This", and I am a mentor for Christian businesswomen as well. That's the typical bio that you all get whenever you listen to a podcast I'm featured on. And this episode sponsored by my beautiful "I was Created for This" mug, with Ephesians 2:10 on there in the beautiful script. If you want to grab a mug, you definitely can over at daniellemroberts.com/mug. And you can get a beautiful mug shipped right to your house. I call it a Christian affirmation m , because it affirms that you were created for what you're doing.
I'm just going to start from kind of the beginning. Not really all the way at the beginning because who wants to talk about being a baby, and I have no recollection of that. But this is going to be a two-part episode, so I'm going to stop and I'll let you guys ponder on that for a while and then pick back up later. I became a Christian when I was five. I remember trying to figure out what communion was, and sitting on the front steps of our old, old church. Our church was built like 1860's, 1818, or 1880 I mean. Somewhere around there. Not the church we're currently going to. But at that time I think I was trying to figure out communion and my mom ended up praying with me, and then we continued to go to church, I went to Bible camp, and that was … I think I went for seven years, and that just created this huge love for Jesus, passion for reading my Bible and wanting to know more about Jesus.
I was baptized when I was I think 12 or 13. It all gets a little foggy when you're old and you're like, "Way back when …" No, so that was that. And then all throughout … I was homeschooled up until 8th grade. 9th grade I did a couple classes at the school for high school, and 10th grade I went full time at the high school, 11th grade I dropped out of high school because I was like, "I can get so much more done, be so much more productive." Right, productivity, that's always been a value. I can do this. And that's what I did, and then I went back to high school in my senior year in 12th grade so that I could graduate because I was like, "Oh, college is really … They like this actual diploma better than a homeschool one." That's my logic behind that. Plus, I am an extrovert, I love being around people. For me sitting at home while I was homeschooled was super, super boring, and I did not like it at all. That's my growing up years.
When I was in 10th grade, I think I was 16, I went to Mexico on a mission trip, fell in love with the country, with the culture, with the language, and decided that that was something that I would … I think I knew previously that missions was going to be part of my life. Amy Carmichael, she was Irish/English? Anyway, she was a missionary to India and she worked with orphan girls or girls that had been left in the Hindu temple as basically like child prostitutes and sacrifices and stuff. I loved her growing up, I did. I know I did a picture or like a paper on her at one point. And while I was in Mexico that love of missions continued to grow. I had done a mission trip at Bible camp, I had done a mission trip after my freshman year of high school, and then every year subsequently during the summers after each grade.
I went again to Mexico as a senior, I think if I'm remembering it properly, yes, and just knew that traditional routes were not going to be for me. And that's to say that I was enrolled in a college, I had gone up … It's North, so I went up to register for school, to get my classes picked out. I got my pretty little University of Minnesota, Duluth ID card and had a roommate picked out everything, and then God was like, "Yep, that's not where you're going to be." After lots of praying, lots of, "God, what now? Why?" He revealed to me that there were other things that he wanted me to do. I ended up joining YWAM, which is Youth for a Mission and I was not expecting to cry during this, I'm sorry. Pregnancy hormones are raging. I'm 37 weeks when I'm recording this. It makes a difference when you've got lots of baby stuff going on.
Yeah, so I joined YWAM and at the end of the summer after I had graduated I flew to San Diego, California by myself. Everything that I was taking with me was in a bag, big old duffle bag, and I lived in Mexico and did YWAM discipleship training school for five months. We had three months of intense biblical training, we had two months of outreach sharing what we had learned about the Bible, talking to people in Guatemala. We hopped over the border to El Salvador for a weekend, and that was gorgeous, Guatemala and El Salvador. Basically, anywhere in Central America is amazing and I love it, and I wish I could live all year round in flip flops.
I ended up doing that and God just revealed his heart for the nations, his heart for his people, and I learned more about myself because you're in the Bible, you're learning, you're talking to God every day. He's going to respond, he's going to answer you. And at the end of the time, at the end of the five months in February I went home to visit my family, and then I came back and I joined their staff and I was supposed to be there for two years. I didn't listen to God when he was like, "This is not where I want you for two years." The first thing that I was like, "Okay." Should have listened there. And what God had really done was place the heart for India on my heart. I didn't trust him enough to think that he could make it happen.
I stayed in Mexico instead, I pulled a Jonah. I worked all summer long and I left in September because my depression had gotten so bad, and I find that when … And this is not for everybody, this is not saying a blanket for myself either, but I tend to find when I'm in disobedience to God, my depression will get worse, or if I'm not listening to his plan, that's kind of the way he calls me out. And it's like, "Hey, you're going to go down this bad path mentally and physically and emotionally." And that is what ended up happening. I cut my contract short, said, "This is not where I'm supposed to be" and I came home to Wisconsin. Worked at a coffee shop for a year, which I loved. Like I said, extrovert people lover. Give me all the coffee. And that was great.
I was able to heal, I took some college classes, which I had been doing in Mexico because I wanted to learn more. I took a biblical counseling class, I took an evangelism class, at the university I took a college algebra class, which I totally thought I was going to fail. That was a C in my perfect 4.0. And then from there, I worked at a Bible camp for that summer of 2008. And God just taught me so much, but one thing that really surprisingly came through was my love of writing devotionals or writing Bible lesson plans. And while I was in Mexico I had worked on our kids' program, so when missionaries would come in they would get a box of goods. And that was like their evangelism kit, so balloons, crafts, paper, puppets, and then I also would make sure that they had the Bible study in there that they could share with everybody.
Then when I was working at the Bible camp I was like, "Man, I really, really love this. I think in the future I'm going to write a vacation Bible school curriculum." Hasn't happened yet, so we'll see if that's still going to happen. But I love digging in and I love sharing God's work with people just from a new perspective. One day we were star spinning, like looking up at the stars and then you spin around on a particular star, in the dark, super safe … That's a miracle nobody twisted an ankle or something. But Joshua 1:9 came to mind that summer as I was kind of going through a rough time of just feeling really lonely, and Joshua 1:9 is, "I'll never leave you, I'll never forsake you, I'll be with you wherever you go." And I have a star tattoo on my foot with the star and then the Joshua 1:9 is above it. And so that's that tattoo story.
But God just showed me there's so much more, and he's with us wherever we go. He is the one that's going to keep us safe from the storms. Even if we have storms, he's going to keep us safe, and that is the lessons that I learned 2008 and before. I'm going to go ahead and stop this and then you can listen to number two later.