Having a place to belong is vital to humans. One of the things I loved about being in the military was the instant community we had once we landing in Chicago airport. We relied on each other to get through basic training. When I got to Great Lakes, IL for training I had to give them my glasses because they wanted us to all have the same glasses from their ophthalmologist. Well, I'm basically blind without my glasses and I had to rely on others to tell me what they were seeing and where to go those first few days. It was scary and disconcerting to not see well and have to rely on others such a normal part of everyday life.

I "finally" got my new glasses and made it through training with those great gals who came from many different cultural and ethnic backgrounds and who became friends. As I moved to Florida for training, and then Maryland to join my new husband, I once again found community in the fellow Sailors, Soldiers, and Marines whom I worked with. You learn in the military to build community wherever you are living because they become your close friends and adoptive family.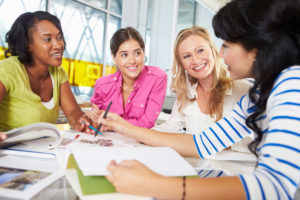 I think one reason why I enjoy the small business/entrepreneurial world is because of the community that exists. There's the community of local networks to break into and the comradery when you discover that someone else is a small business owner. There's also the online spaces such as masterminds and Facebook groups where you can go ask questions and grow together in skills. Coffee chats with others are a great way to get to know another person and in real life, not many people would have the guts to walk up to a stranger and say hey, let's go get coffee and discover more about each other.

Moving into the new year, I'm so excited to continue growing my communities both in person and online. Being intentional about that kind of growth always reaps a benefit later once you've invested in others. I'm not sure if you're aware but I've got a Facebook group and will be opening up a mastermind for Christian business owners again in the spring. If you haven't gotten involved in something like a mastermind or even in person yet, I highly encourage you to do so!
I'd love to know what you're doing to find community and how you make community building intentional. Leave me a comment or better yet, jump over and join the Women Christian Business Owner and Entrepreneur Facebook group to continue the conversation there.