OKAY!!! Are you'll ready for this? Duluth, MN will be having a 2-night event (you can attend one night or both).
An intimate in-person mastermind for female Christian business owners and entrepreneurs. Space is limited to five women.
About this Event
You may have ideas of the next step in your business, you may have even started doing them, but you're just not sure if it will work.
You may have dreams and ideas of what you want to do but want the input of others to help solidify plans. This is the place for you if these things are true.
Out of our time together you'll receive honest feedback, coaching on the night's topics from Certified Coach Danielle Roberts, and fellowship with this community. There will be designated amounts of time for each person to share.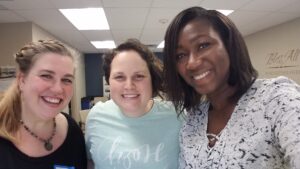 L to R, Katie, Danielle, Lina
"Danielle's live event allowed for the space and time I needed to really think about what I want from my business. The structure of the event with starting off in devotion and prayer was helpful to get myself in the right headspace." – Katie T.
"I had an amazing time at the event with Danielle. It exceeded my expectations on many levels. She provided 1:1 support and coaching that really helped me focus and (re)plan my business objectives. I recommend Danielle's coaching services and this workshop to all female Christian business owners." – Lina A.
This is a two-part event, September 27 and 28, however, you can attend one night or both.
Night 1 of 2: Prayer and Planning for Your Business (click here for tickets)
Devotional on business and Jesus
Prayer and reflective time on your business
Goals planning for the next 6 months
Dream big and create ways to move your business forward into where God's calling you
Night 2 of 2: Initiative and Implementation (click here for tickets)
Devotional on business, rest and Jesus
Prayer and petition
Development and Implementation of ideas (breaking down big ideas into steps that can be implemented and planned out
Initiate first steps in your plan (yes, actually spending time working on these things)
Gain resources, ideas, and tools to go away ready to keep moving forward in your business
Snacks and drinks (coffee and water) will be provided.
No matter where you're at on the growth of your business, we'd love to have you join us. This is probably not applicable if you don't currently have a business but if you're interested, I'd love to still talk with you if you want to email me at dmr@daniellemroberts.com.
*Ticket will be refunded due to illness.